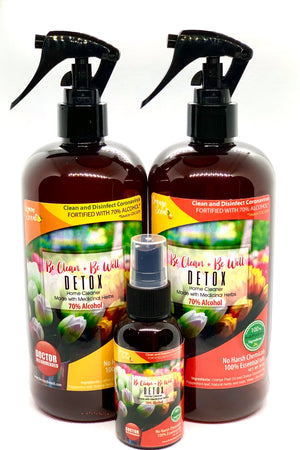 Be Clean + Be Well (Holiday Cleaning Bundle)
Be Clean + Be Well Holiday Cleaning Bundle comes with 2-Large and 1-Travel size bottle. 
Our Products are made from a special recipe of Lemon Peel oil, Orange Peel oil, Leaves, roots, and a unique blend of 100% Essential oils. Fortified with 70% Alcohol*. (2- 16oz Bottles and 1 - 2oz Travel Bottle)
*The CDC recommends using products with 70% Alcohol for proper cleaning and disinfecting of the Coronavirus. 
https://www.cdc.gov/coronavirus/2019-ncov/prevent-getting-sick/disinfecting-your-home.html